About Intellirod Spine - Board Members


Company History | Board Members | Founders | Investors



John Naber, PhD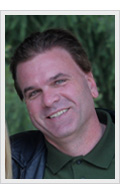 John Naber is a Professor at the University of Louisville (UofL) Speed School of Engineering in the Department of Electrical and Computer Engineering. Dr. Naber's research over the past 15 years at UofL has primarily involved developing custom analog and digital circuits using RFID technology and MEMS-based sensors for advanced implantable biomedical sensing systems.

Dr. Naber started his career at General Electric in Syracuse, New York as an integrated circuit design engineer for 2 years. He then spent 8 years with the ITT Gallium Arsenide Technology Center in Roanoke, Virginia. In 1995, Dr. Naber began working at UofL, holding several positions in the Department of Electrical and Computer Engineering prior to his current role as Professor and Associate Chair. During this time at the University of Louisville, Dr. Naber has been granted 10 patents and received 25 externally funded grants totaling more than $14M, including the 2001 National Science Foundation grant that would foster the development of OrthoData.

Dr. Naber received his B.S. and M.S. degrees in electrical engineering from the University of Louisville. In 1992 earned his Ph.D. in electrical engineering from Virginia Polytechnic Institute and State University.



Richard R. Navarro



Mr. Navarro is the President & CEO of Intellirod Spine He has over 25 years of medical device and implant experience in artificial hearts, wheelchairs, operating room equipment and spinal implants. Most recently he served as the VP and Site Manager for Integra LifeSciences spine division in Akron, Ohio. Prior to that he was in senior management at Theken Spine and was a co-founder and VP R&D for Theken Disc, a company that developed the first lumbar artificial disc to incorporate microelectronics. In addition he has held senior engineering, quality, and operations roles with Integra, Biomec, Allen Medical Systems, AcroMed and the Cleveland Clinic.

Mr. Navarro holds bachelor's and master's degrees in Mechanical Engineering from the Ohio State University and an MBA from Baldwin-Wallace College. He is also an inventor on 21 patents and has commercialized numerous spine and operating room products.



Steve Wilson



Steve Wilson is an entrepreneur and marketing professional with more than 40 years of experience. Mr. Wilson is currently a member of the Queen City Angels, an angel investing organization operating primarily in Ohio and Northern Kentucky, where he focuses on new businesses and start-up ventures.

Mr. Wilson is retired CEO of VNU Advisory Services. VNU, now The Nielsen Company, is the world's largest provider of marketing information and research. VNU businesses formerly under Mr. Wilson's responsibility included BASES, Claritas, Spectra Marketing and HCI. He was also responsible for divisional new product development, acquisitions and strategic planning.

Prior to his role with VNU, Mr. Wilson was President, BASES (1989-1998); President, SAMI (1986-1989); President, Burke Marketing Research (1981-1986); President, Market Audits (1977-1981) and he is a former Officer of Booz, Allen and Hamilton (1977-1979). Mr. Wilson began his career in consumer products brand management at Warner-Lambert (1968-1973) and Richard-Vicks (1973-1976).

In addition to OrthoData, Mr. Wilson serves on numerous boards including, Chair of the University of Cincinnati Foundation, and Director of Buyology, CoupSmart, Bob Sumerel Tire, and Maple Knoll Communities.


Latest News


Intellirod Spine Raises Capital and Obtains ISO Certification

Intellirod Spine Receives $1.6 Million Ohio Third Frontier Award

An Orthopedic Sensor To Report Progress of Spinal Fusion Aims to Reduce Use of CT Scans

City of Akron Backs Intellirod Spine with $1.1 Million

JumpStart Invests $250,000 in Intellirod Spine

Intellirod Spine Arrives in Ohio with a Sensor Device for Spine Surgeries & $1.1M in New Investments



About Intellirod Spine


Intellirod Spine™ (formerly OrthoData Inc.) was founded by renowned spine surgeon Rolando M. Puno, M.D. and professors from the University of Louisville. The company is developing a wireless implantable microelectronic spinal rod strain sensor. This innovative strain monitoring system will allow spine surgeons to objectively assess the strain on implanted spinal fusion rods.